Disinfection technology matters now more than ever before
Applied UV (NASDAQ – AUVI) develops products to target the most contagious pathogens, including COVID-19
In December 2021, while many held their breath bracing for the impact of the fast-spreading omicron variant of COVID-19, the state of Oregon was dealing with another potential outbreak.
The state had detected its first-ever case of Candida auris, or C. auris, in a hospital. Within two weeks, two more patients had contracted infections.
While it was not the first appearance of this drug-resistant superbug in the U.S., it was cause for immediate concern. From September 2020 to August 2021, there had already been cases documented in 19 other states. Since 2013, the Centers for Disease Control and Prevention has been monitoring this emerging fungus, which "presents a serious global health threat," with the advice for health care facilities nationwide to remain aware.
At this stage, the pathogen remains thankfully unknown to most Americans outside of hospital settings, however it still presents a growing worry for health care-associated infection (HAI). After several years in decline, HAIs in the U.S. saw an uptick due to longer hospital stays related to COVID-19.
Along with lessons learned from the pandemic, pathogens like C. auris and many others are indicators of how disinfection technology is more important now than ever before for curbing the spread of infectious diseases.
For those working on innovative products at Applied UV, the focus has been on building science-based solutions that are safe, effective and simple to use for businesses and individuals.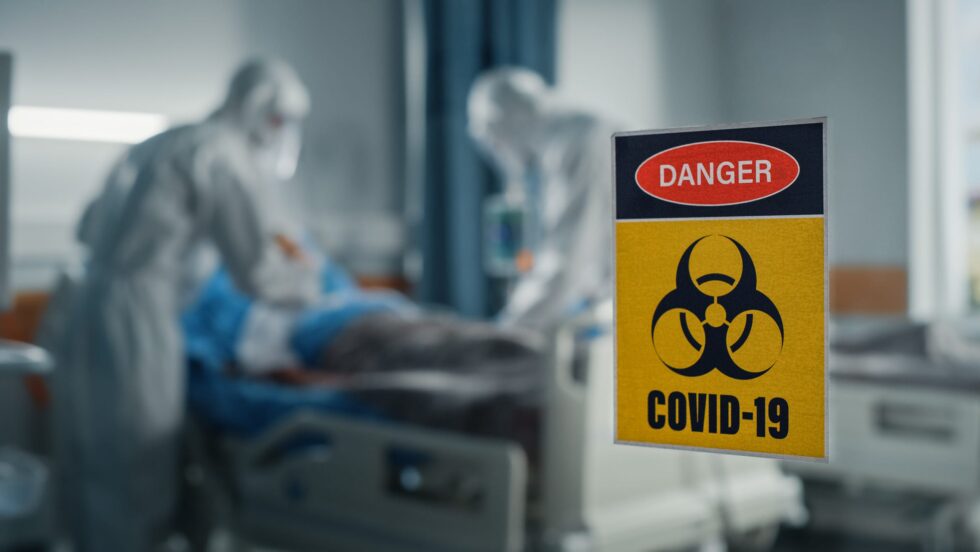 Stopping the spread
Before the pandemic, Applied UV had developed a patented ultraviolet-C mirror to disinfect high-traffic areas around sinks in hotels and hospitals, destroying 99.99% of dangerous pathogens.
With the rapid spread of COVID-19, its vision expanded to air purification and surface disinfection, aimed right at the most highly contagious viruses, including SARS-CoV-2. Part of the company's success has been in looking for solutions in places others haven't.
Even though hand hygiene helps prevent the spread of germs in hospitals and health care facilities, sinks can harbor contagions not only on the surface areas where you may expect, but deep in the drain.
When someone washes their hands, the running water can displace air in the drain releasing germ-filled aerosols that are invisible to the human eye.
On surfaces, Lumicide technology kills 99.99% of pathogens, including C. auris, E. coli and H1N1, among many others.
(SOURCE: APPLIED UV)
Targeting sinks and drains, backed by independent third-party testing, Applied UV developed Lumicide products using patented UVC-based technology. Placed in handwashing areas, the Lumicide Ribbon is ETL-certified for being safe to use for surface disinfection with people present in the room. Once installed, it is able to disinfect hard surfaces up to 1 foot from the unit and generate more than 35 times the energy required to kill pathogens in a typical disinfection cycle.
Designed to complement the Lumicide Ribbon, the environmentally friendly Lumicide Drain is another powerful method for disinfecting sinks. It kills the tough biofilm that builds up in drains and can disinfect more effectively than manual cleaning.
On surfaces, Lumicide technology kills 99.99% of pathogens, including C. auris, E. coli and H1N1, among many others.
Purifying the air
Scientists globally are continually calling on Governments to address improving air quality emphasizing and recommending upgrading antiquated ventilation systems utilizing advanced technologies that could kill future pandemic related airborne pathogens like COVID-19 from spreading, potentially eliminating global economies from having to close.
While pathogens can live on surfaces for time frames spanning from a few hours to a few days, airborne transmission like in the case of COVID-19 can present an even greater risk.
It is possible to catch viruses that cause the flu, colds and COVID-19 from close contact with infected people when they cough, sneeze or even breathe and talk.
In cases where pathogens spread similarly like the flu and COVID-19, the potential for a twindemic increases, which is a concern some medical professionals have right now. Air purification could help prevent a worst-case scenario.
Airocide technology removes PM 2.5 particles, mold spores, odors, smoke and volatile organic compounds.
(SOURCE: APPLIED UV)
Working with NASA, Airocide technology was developed to provide clean air on space missions. It combines two pathogen-killing techniques — photocatalytic oxidation and ultraviolet light — to eliminate harmful airborne microbes. Another benefit is that it produces no harmful byproducts, such as ozone, making it safe to use around people.
In addition to viruses and bacteria, Airocide technology removes PM 2.5 particles, mold spores, odors, smoke and volatile organic compounds. Airocide is listed as a FDA Class II medical device for providing medical-grade air purification in hospitals.
In places where aesthetics matter, such as homes and offices, Airocide technology, with is sleek design can be used quite seamlessly.
For larger settings requiring a higher CFM, or cubic feet of air moved per minute, Applied UV recently acquired Scientific Air Management, whose technology is ideal for commercial use and is currently deployed at some of the USA's leading hospitals (Baptist Health,Federal VA Hospital System, NYU Medical Center, Kaiser Permanente Medical of California) and other commercial facilities.
Rapid, whole room cleaning is possible by using the Scientific Air S400 which delivers high air disinfection levels.
(SOURCE: APPLIED UV)
Looking beyond public health
While disinfecting surfaces and purifying air can help contain outbreaks, there are other significant applications for these technologies, ranging from food production to high-end art preservation.
During the pandemic, keeping sports fans (Boston Red Sox) safe in public spaces and kids healthy at school have been top priorities, but air purifying can also manage odor control in high-traffic areas, such as locker rooms and stadiums. Likewise, food companies and wineries have been using air purifying technology to prevent spoilage and the destruction of products. In wine caves, mold spores can compromise valuable wine barrels and be very expensive to clean. Airocide helps prevent damaging mold.
While the world continues to confront the challenges of the pandemic, disinfection technology remains important for right now — and the future.
To learn more about Applied UV and investment opportunities, visit applieduvinc.com and sterilumen.com.
Members of the editorial and news staff of USA TODAY Network were not involved in the creation of this content.