Tomato Repacking Facility
Case Study
Airocide PPTTM Perishables Preservation Technology
Airocide PPTTM photocatalytic air purifiers contain the same NASA-developed technology that is used in a variety of Airocide product lines. In addition to serving the food safety industry as well as in floral and perishable preservation Airocide technology has been developed to kill/remove/eliminate airborne pathogenic and non-pathogenic microorganisms in vegetative and spore states (bacteria, mold, fungi, viruses and dust mites), allergens, odors and harmful volatile organic compounds (VOCs) in air in a variety of commercial, government and residential market applications including the medical healthcare industry (Airocide is listed as an FDA Class II Medical Device).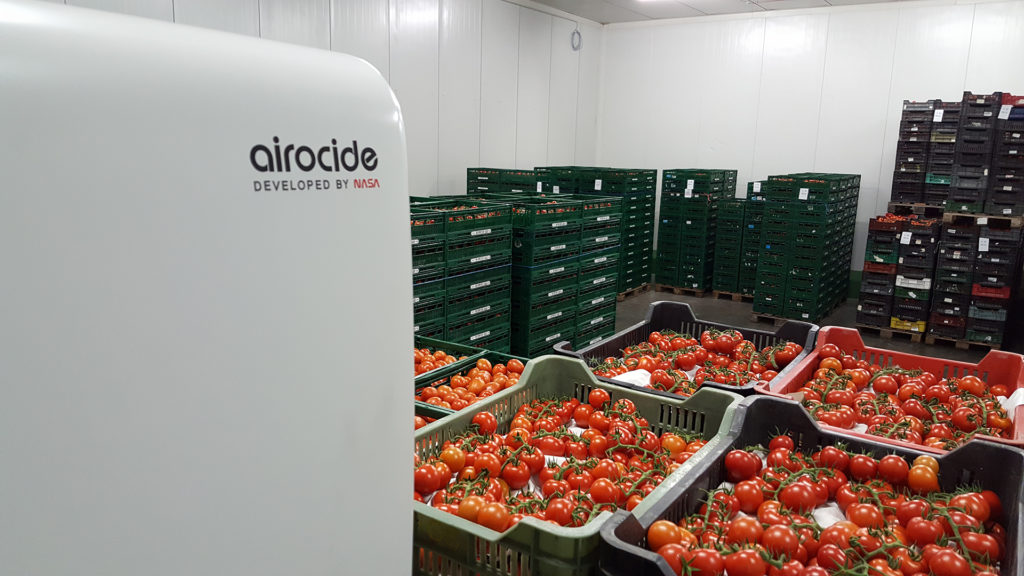 Summary
A clinical test of the Airocide PPT air purifying system was conducted in a tomato repacking room/cooler at a major tomato repacking facility in Riverview, FL to measure the reduction in airborne mold and airborne bacteria. The system reduced the amount of airborne mold in the cooler by an average of 90.5% after a 72-hour period.
Protocol
The ripening room/cooler (R2), where the test took place, is approximately 807 m³ in volume. The test period consisted of four (4) days of air sampling in February 2005. During that time four samples were taken. A baseline air sample was taken in one location in R2 on Monday, 02/07/05 without the Airocide PPT air purifying system operating. After the baseline air sample, the system was turned on in R2. Active On samples were taken after 24, 48 and 72 hours of system use. Air samples were taken for comparison in the Main Sorting and Packing Area. Air samples were taken with a slit air sampler (similar to the Andersen N6 sampler) on 15 x 100 mm plastic petri dishes. All samples were cultured on Potato Dextrose Agar plate by Aerotech Laboratories in Phoenix, AZ, and the results were measured in colony forming units (CFU) per cubic meter of air (CFU: the number of viable bacteria or fungal cells in a sample capable of reproduction). All agar plates were exposed to 28.3 l/m of air for 3 minutes.